Xdesk
Solo Plus
™
Xdesk
Solo Plus

™ Specifications
Power Adjustable Height Control System
Push-button power adjustable height selection
Single microprocessor controlled lifting column
Powerful 18 volt DC motor
Sophisticated track guidance system
Robust internal dual chain drives for increased reliability and low noise
3 Programmable memory presets
Integrated controller includes diagnostic tools
Brilliant digital LED display indicates height selection
Ergonomic convex/concave rubber buttons
Smooth and gentle soft-start and soft-stop
Unibody construction: out of sight internal motor design
Advanced hall sensors precisely control speed and proximity of each actuator
Dust, air and moisture resistant
Solid-state controller, i.e. there are no moving parts like relays
UL approved components
Architectural Frame
Aircraft grade aluminum base - recycled aluminum, but same quality as new
Powder Coat finish options include Jet Black Gloss, Alpine White and clear gloss powder coat which retains the natural beauty of brushed aluminum
Each advanced powder coat finish is baked on in 400 degree ovens for increased scratch and wear resistance.
Safe: contains no solvent-based paints
Elegant design - no exposed screws, hardware or motors
Natural Bamboo Surface Desktop
Choose from three bamboo finishes: light, medium or dark
Safe: contains no formaldehyde or other toxins
Edges are slightly rounded
Safe: contains no solvent-based paints
Corners are slightly rounded
Cable Management
10 feet of NextFlex braided monofilament contains power and data cables for a very clean install
Expands 150% to hold all wiring
Performance
Best in class lifting speed: 1.5 inches per second
42% faster speed adjustments than Chinese manufactured desks
Super wide height range: from 24 inches to 50.5 inches
250 lb conservative rated lifting capacity
Ultra quiet: 60 decibels during transitions (normal conversation is 60 - 70db, a telephone dial tone is 80 db)
No mechanical relays, no clicking sounds made by relays when the button is pressed
Auto-Protect – the entire system protects itself against overload by cutting itself off
EcoSleep: during standby, power consumption is almost zero watts
Dimensions
Ergonomic Keyboard Arm
Independent height and tilt adjustment
360 degree swivel - easily move keyboard freely from side to side
Patented spring assisted Lift-n-Lock counter balancing
adjustments are quick and easy. Simply lift the front upward.
maintain a natural, healthy S-shaped spine
Height indicator gauge -allows users to easily adjust the height of their keyboard
you can maintain a 0 - 15% negative slope as ergonomists recommend.
Dial in the perfect setting and easily return to it.
clean lines and stylish design perfectly matches each NextDesk
Ergonomic Monitor Arm
Available in both Single and Dual Monitor Capabilities
Accommodates displays up to 20 pounds
llows for fast and easy setup with patented Quick Connect technology
Adjusts for heights up to 13"
Moveable back and forth up to 20"
Easily adjustable with included allen wrech
Swivels 360 degree
Mounts to the edge easily with a clamp or through a hole
Includes 75 mm and 100 mm patterns for mount
Integrates seamlessly with NextDesk cable management for a clean look
Moveable back and forth up to 20"
Easy on-site final assembly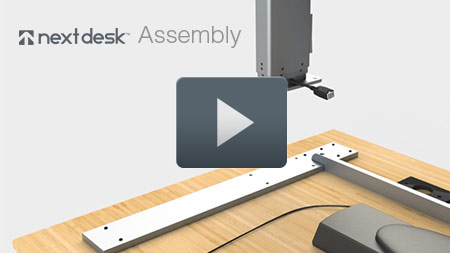 Domestic Shipping
All desks are shipped via third-parties and not by NextDesk employees. We ship desks that are less than 64 inches in width via Federal Express. Desks that are 64 inches and larger desks must be shipped via truck lines due to size limitations of Federal Express packages. For large desks, NextDesk uses the best truck carriers in the business to make sure your NextDesk gets to you on time and in good condition. You will have the option of picking up your NextDesk at a local dock, or making an appointment to have NextDesk delivered to your home.
International Shipping
NextDesk will gladly ship products worldwide to most international destinations. The NextDesk Online Store ships within the United States of America and Canada. If you wish to get an international shipping quote on any of our products, please call (00+1) 512-212-7758 or use international shipping form to obtain a shipping quote.
Home and Business Delivery Options
The two types of deliveries are curbside delivery and inside delivery. With curbside delivery, the driver will bring the desk to the end of the driveway at the delivery location. Some companies do not allow delivery drivers to bring the products inside your home due to safety concerns. In some cases the driver cannot bring the product under any structure. With some third-party delivery companies used to deliver large desks over 64 inches, the driver may not offer to remove the item from their truck. With commercial deliveries, the driver may bring the item inside your place of business if Inside Delivery is selected. If available in your area, inside delivery typically costs an extra $75. Extraordinary delivery requirements such as a multi-level building may require additional delivery charges.
Shipping Date
Each NextDesk is custom manufactured in the order it is received. Please see the respective product page in our online store or your email receipt for a shipping estimate. Custom desks or L-desks typically require 30 – 60 days for manufacturing. Since the actual delivery date of your order can be affected by events outside of our control, shipping and transit times may vary. In general, allow 2-5 days for transit.
Warranty
At NextDesk, we think knowing your desk will stand with you through every day builds trust and confidence. Thatâ€s why your NextDesk and its motors are backed by a best-in-class 5 year limited warranty. All NextDesks are designed, manufactured and assembled in the the great city of Austin, Texas.
30 Day Satisfaction Guarantee
In addition to offering the best in class warranty, We are so sure you will love your NextDesk, we offer a 30 Day Satisfaction Guarantee. Try a NextDesk for 30 days Risk Free, in the unlikely event you are not happy with your NextDesk for whatever reason, we invite you to return it. You may return your undamaged NextDesk in its original condition with the receipt and packing for a full refund (less shipping charges) within 30 days of purchase